It's the most wonderful time of the year!
Updated: Dec 18, 2022
Joy to the world! Peace on earth! Happy holidays! Or is it? This is one of the most stressful times of the year for many. Family time, travel, gifts to buy, meals to prepare, etc. We want this time of the year to be merry and bright for our family and friends. Feeling overwhelmed is an under-statement.
Kick off December by giving yourself the gift of a wholistic approach to survive the holiday season.
https://youtu.be/Eo5ZLdbcZsk "Stretchy Pants" by Carrie Underwood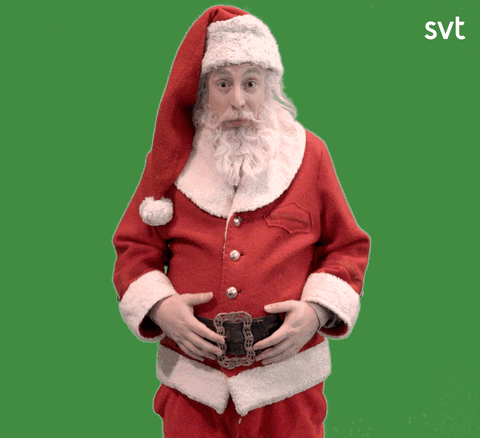 Tip #3: A round belly, like a bowlful of jelly
Santa is adorable and lovable with his round belly, like a bowlful of jelly. However, it's not a healthy way to live. And, the bigger your waist, the smaller your brain!
By the time we get to October, our calendars become packed full of parties and opportunities to eat. Many people tend to toss out all their good eating habits and dive head first into unhealthy dishes. Many of these foods are processed, high in saturated fats and sugar; and, they leave you feeling spacey, fatigued, and bloated.
The food you eat can effect your brain function quite quickly; and often lead to your giving in to cravings around the holidays. Unhealthy eating may lower your ability to handle stress and family drama.
Healthy versus Unhealthy food:
What you decide to eat impacts your mood, energy levels, and will either help or harm your thinking. Sadly, the typical western diet consists of an overabundance of bad fat, salt and sugar. The SAD (Standard American Diet) diet is filled with pro-inflammatory, allergenic foods with artificial chemicals. This diet leads to damage and premature aging of the brain. Consuming these types of foods increase your risk for depression, ADD/ADHD, anxiety disorders, diabetes, hypertension, heart disease, cancer and dementia. Let's take a look at those foods that are generally most damaging to the body and mind:
highly processed

stored in plastic containers

sprayed with pesticides

tainted with antibiotics

highly glycemic

hormone-laden

low-fiber

artificially sweetened and colored
Now, you may be wondering what types of food should you be consuming. Here's a few recommendations on healthy foods to consider eating:
1. High quality protein:
hormone and antibiotic free

free range

grass fed

eggs

fish (wild caught)

lamb

turkey or chicken

raw nuts

high protein vegetables (spinach, broccoli)
2. Healthy fats:
Omega-3s (salmon, avocado, walnuts, green leafy vegetables)

Nuts

Oils:coconut, grapeseed, olive

flax seeds
3. Smart Carbohydrates:
high fiber

low glycemic (vegetables, legumes and nuts)
4. Eat from the Rainbow:
these are antioxidant rich foods

fruits and vegetables
5. Brain healthy Herbs and Spices:
Garlic and oregano to boost brain blood flow

Saffron has antidepressant effects

Curcumin decreases beta beta amyloid plaques

Cinnamon boosts attention

Ginger, cayenne, black pepper boosts metabolism

Rosemary, thyme, and sage enhance memory
6. Brain healthy fruits:
apples

berries (acai, blue, black, yogi, strawberry)

cherries

grapefruit

kiwi

oranges

peaches

plums

pomegranates
7. Brain healthy veggies:
asparagus

beets

bok choy

broccoli

brussel sprouts

cabbage

cauliflower

celery

garlic

kale

leeks

onions

red bell peppers

seaweed

spinach
8. Brain healthy nuts/seeds/roots:
cacao

almonds

brazil

cashews

walnuts

chia

flax

hemp

sesame

maca

wild yam root
9. Brain healthy Beverages:
water

coconut water

sparkling water with lemon and stevia

water with fruit
When you head out for that holiday event, be prepared! It is very likely that any holiday celebration is going to have unhealthy options. First, consider taking healthy snacks with you. Secondly, offer to prepare and bring a brain healthy dish to the celebration. Finally, as always, moderation is key. It is the holidays after all. Everyone wants to indulge in a little fun. So, if you are going to indulge in something decadent, follow the 3-bite rule. Enjoy 3 yummy bites and move on!
Stay tuned for Day 4 of the 12 Days of Christmas!
Refernces: